Quality Policy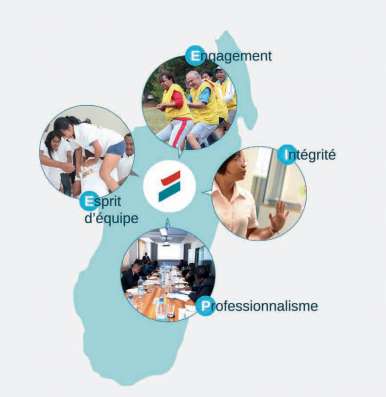 Quality, the core of our strategy
BNI MADAGASCAR is positioning itself as the First Malagasy Bank, reflecting the pride of being the banking institution by Malagasy and for Malagasy
Quality is the key factor in achieving our strategic goals, defined in the "CAP LEADER 2020" plan based on four values.
● Commitment
● Professionalism
● Team spirit
● Integrity
Quality, a continuous improvement for customer satisfaction
The main target of our Quality Management System is to exceed the expectations of both external and internal customers, which depends on a good-quality work, performed by each of us.
It also relies on compliance with legal, regulatory and customer requirements to ensure the conformity of services and control of risks.
Quality, a journey, and means
Providing assurance on the effectiveness of the quality process remains paramount.
In order to fully achieve our mission, in the respect of our values, we are committed to the continuous evolution of our Quality Management System:
• Listen and satisfy the needs of customer and market
• Identify the risks and opportunities; and implement the requisite measures
• Empower employees ; increase their skills
• Improve the working tools and environment
Quality, a commitment of colleagues and management
Quality goes beyond regulatory compliance. It also is an attitude, a behavior, an individual initiative, willingness, and implication.
Our success is very much dependent on everyone's commitment in the quality process.
Together, we can develop sustainable quality within our institution.
Antananarivo, September 29, 2017
Alexandre MEY
CEO